How to Apply

Method

Test Fee

Application Flow

Registration Confirmation

Candidate Identification Slip & Official Receipt

Applicant Notes

Unauthorized Behaviour
Please read "Test Details" on this website before application.
Method
On-line application. Visit "
On-line application form
" on this website.
Attach 1 JPG format photo.
Must
use candidate name as the photo file name. Photo will be shown on the certificate.
Must be clear and recognizable, otherwise, application may be forfeited. Picture requirements:
Must be taken within 3 months.
Maximum size 200 KB, 3x4cm, 354x472pixel.
Plain white background.
Showing full frontal face with clear facial features.
Do not wear hat and avoid heavy make-up.
Test Fee
TOPIK I – HK$400; TOPIK II – HK$500
Credit card only (Visa & Master).
No entrance fees are refundable or transferrable to other person, date or level. Please read
Statements
.
Application Flow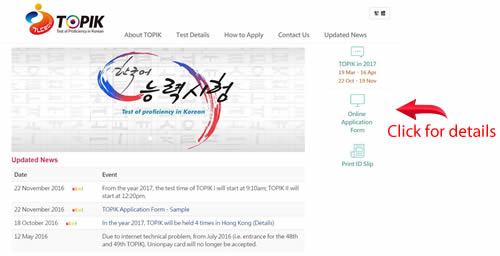 Registration Confirmation
Successfully registered candidates will receive instant email confirmation.
Candidate Identification Slip & Official Receipt
Candidate will need to click into "Print ID slip" on this website so to log on and print out the TOPIK Identification Slip & official receipt (candidate will be notified via email). Please note candidate must present valid personal identification and TOPIK Identification slip in order to attend the test.
Applicant Note
On test day



Must bring original valid personal identification and the TOPIK Identification Slip, bring one's correction tape and watch.
For TOPIK II candidate, if only takes one session of the test, candidate will be disqualified.



Before each session



Candidates must be seated on time at assigned seat.
Place identification slip and personal document at the upper left hand corner of the desk.
Each candidate will receive a dual points computer marker pen. All answers must be completed by using the given marker pen.



When filling out answers for multiple choice questions



Candidate can mark answers on question paper if needed.
Use the thick-end of the marker pen to answer multiple choice questions. No points will be obtained when using other pens.
To make corrections, use correction tape only (not fluid type). No points will be obtained if mark more than one answer.
Mark answer carefully, please take note of when filling the answer sheet, example as "here"



When filling out answer for statement and composition



Candidate can mark answers on question paper if needed.
Use the fine-end of the sign pen to answer the writing questions. No points will be obtained when using other pens.
To make corrections, use correction tape or draw two lines through.
13. For writing, words should be filled in corresponding boxes. No marks will be given for words outside of the boxes, fill in wrong boxes or writing more than 1 piece of answering paper.



After each session



Place the answer sheet on the right hand side of desk and the examination paper on the left.
Any candidate keep filling out answers after the test time has ended will have his/her test invalidated.
Candidate may only leave the classroom after the finish bell rings at each session.
Unauthorized Behavior
Anyone found to have engaged in any kind of unauthorized behavior will be immediately expelled from the test room and have his/her test invalidated. Types of unauthorized behavior include:
Showing answer sheet to other candidate or viewing other's answer sheet.
Read book or memo during the test.
Using of any communication device (mobile phone, MP3 player, beepers etc) or electronic device during the test.
Falsifacation of personal identification or TOPIK identification slip.
Sit the test in the name of another candidate.
Record or copy question paper.
Talking with, exchanging material or signal with another candidate during the test.
Not following the instructions of the invigilator.